This kit has been around a long, long time. It was one of our first. The main parts of this model are "White Metal" (Pewter) castings with Patternwork by long time friend, Master Pattern Maker, Paul Washburn .

Though we're noted for the fine super-detailed tooling on our Injection Moulded Plastic Model Kits, we opted to make these cars in white metal so they would weigh in at around 4 ounces, thus ensuring good tracking on your layout.

Unlike other white metal kits, ours come with all holes PRE-DRILLED so they are a pleasure to build, instead of the drill breaking headache most people associate with "white metal" kits. Ours are cast in a non-lead Britannia metal too, so they are "environmentally friendly and politically correct" for the world we live in... ( Even so, we still wouldn't recommend you give them to small children to chew on! )

Brake cylinder and detail parts are our standard issue injection moulded styrene plastic, and the wheelsets are our highly detailed coined nickel plated brass... Of course we top this off with Genuine Kadee &reg Couplers!

Available as individual kits, we also bundle these up in 6 packs for the guy who's serious about his logging operation!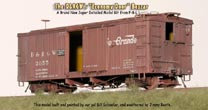 Back to Rolling Stock...

Copyright 2002 - 2017 - P-B-L ® ALL RIGHTS RESERVED