The "Espee" had some really interesting locomotives... The number 8 had two "sisters", the number 9 and the number 18, each of which shared much of the same appearance, but detailing-wise, they varied greatly.

Our models captured that detail so well that photos of the Pilot / Sample Model of #8, as you see above, even made a magazine cover when they were announced!

The prototype for our #8 is on display in downtown Sparks, Nevada, and has had a nice, cosmetic restoration.. If you get through that area, it's worth the effort to stop by and have a look-see, (And maybe a touch or two...) to get a "feel" for how it must have been to hog one of these little teapots through the Owens Valley back in the heyday of the Espee's narrow gauge operations...

Number 9 is on display at the Laws Railroad Museum, abut 6 miles out of Bishop, California; They are really nice folks there and would welcome a visit..

Number 18 has been lovingly restored / rebuilt and is fully operational.. It's housed in a new enginhouse facility a couple of blocks west of US Hiway 395, the main drag of Independence, California..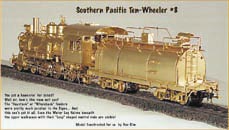 Click the Icon above for a great shot of Espee Number 8 from the rear!