~ Updated: Saturday, March 01, 2008 ~

Each of the R.P.O.'s is semi-unique. None were exactly alike. #62 will be built as shown with short queenposts and two truss rods.

All R.P.O.'s will have the roofwalk, handrail, and end ladders. Unlike #61 and #63, #62's end ladders will have rounded ends.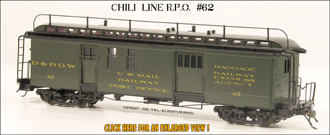 CLICK THE PHOTO FOR A VIEW OF #62'S "OTHER" SIDE.
Return to the Passenger Car Main Page.

Copyright 2002 - 2006 - P-B-L ® ALL RIGHTS RESERVED