Like the "5500" series stocks that preceded them, these cars could be found all over the narrow gauge circle, including the R.G.S. And since stock cars spent a lot of time on sidings, their use being quite seasonal, the railroad would occasionally press them into service transporting poles, ties, lumber, and even rocks for ballast, from time to time.

Built in 1923, these cars were 4' longer than the older 30' cars. They had much heavier bolsters and draft gear than the "5500" stocks, and they featured new Cast Andrews trucks of a longer ( and more stable ) wheelbase too.

Despite their slightly longer, 34'-0" size, and those heavier duty trucks, these cars shared the same capacity and load limit of the older 30 footers: 50 - 60 head. But their 4' of extra length was a problem at some of the larger double-chute loading facilities because these were invariably set up to load two 30' cars at a time and the "Long Stocks" didn't quite fit. . .

This kit was released in 1997 and it benefits from the technological advances we've made since the "early days". It even has a one piece brake rigging shot to simplify construction, and it comes with a dandy set of instructions that, if closely followed will result in the kind of model you see pictured here. No surprises.

This model weighs in right about 3.5 ounces. It comes complete with accurately scaled, easy-to-assemble, ( Read Snap Together ) free rolling " Andrews" Type trucks moulded in that engineering plastic we use for this purpose, "Celcon". And of course, the now Standard of the Industry P-B-L Nickel Plated Brass Wheelsets.

All parts of this model kit, save for the hand grabs and piping are injection moulded in high impact styrene plastic save for the brake rigging shot which is moulded in Celcon. Proper Thin Filmed Decals and Genuine Kadee &reg Couplers are included, of course...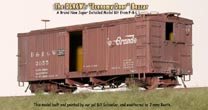 Back to Rolling Stock...

Copyright 2002 - 2014 - P-B-L ® ALL RIGHTS RESERVED