Surprising as it may at first seem, oil was discovered on the "Banded Peak Ranch" high up in the mountains west of Chama... Enough of it that a pipe line was laid between that place and Chama, where an oil "dock" was erected for the loading of tank cars which were then sent to a refinery in Alamosa, Colorado, some ninety plus miles to the north...
And it just so happened that the owner of the Banded Peak Ranch was a colorful figure of a man, 'name of "Gramps" Hughes... Which, not so surprisingly, was how these cars came to have the name "GRAMPS emblazoned on their sides...
Fully loaded, a "K-36" or K-37 Class Mikado was capable of hauling 9 cars up the 4% grade to Cumbres Pass... And no more... So the Tank Trains leaving Chama were almost always nine cars in length...
Our models represent these highly detailed cars perfectly, as you can see from the photo... With the exception of the Hand Railings, Grab Irons, Brake Rods and Train Line, these kits all come out of "hard tooling" ( dies ) and are injection moulded in relatively easy-to-assemble high impact styrene plastic...
The trucks you see under this model are yet another style of "Cast Steel" coming from the American Steel Foundry and emblazoned with "D&RGW" on them... Click here for a close up view of the detail we've incorporated into this truck.
Like our other kits, these come with a comprehensive set of instructions / hints / modeling techniques so that, with some time and effort, you can end up with a model like the one shown above...
Proper Thin Filmed Decals, Genuine Kadee &reg Couplers, and the aforementioned Free Rolling Trucks are included in the kit, of course...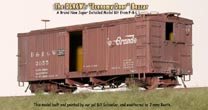 Back to Rolling Stock...

Copyright 2002 - 2022 - P-B-L ® ALL RIGHTS RESERVED