Looking like it's been over the road for a while, the model you see pictured here was one that was built by yr fthfl svt, back when the models were getting close to release... (Yes, Ol' Bill has been known to build a few of P-B-L's kits from time to time. . . 'Fact is, 'memory doesn't fail me too bad, I think I built a total of five of these things during the time I wrote the instructions... Who would've thought?)
Creating these models was a real challenge as just about every part and detail was peculiar to these cars. From her ladders, to those cool looking "tank bands", to the 'specially created "Frame" members you see here, to those very heavy-duty 4'6" wheelbase Archbar Type Trucks. [ Click here for a close up view of one of these trucks. ] What a delight to the eye they turned out to be !
The prototypes actually saw more yeoman duty service than the "Gramps" cars, as they were used all over the system... Whether hauling "crude" from Chama to Alamosa, or "road oil" to Placerville on the R.G.S. their use was pretty common.
A few of these cars were painted up with the "Gas Service" scheme, denoted by the big "G" you see on its side up above that all encircling running board...
Like most of our other kits, the instructions we include with this model include a detailed history of these cars. This time researched and written for us by Bill Horkey . Click here to read what Bill had to say about 'em.
And, speaking of instructions, like our other kits, these come with a very precise set of instructions / hints / modeling techniques so that with a little time and effort, you can end up with a model like the one shown above!
Proper Thin Filmed Decals and the correct, Genuine Kadee &reg Couplers are included in the kit, of course...

For a fortunate (astute?) few, however, we imported a small run of these super-interesting models in Brass back in 2003... Save for the actual tank "wrapper, these brass models were constructed completely from lost wax castings created using actual parts from these model kits as patterns!
These models were fully assembled, factory painted and lettered and ready to operate... "Absolutely stellar" fails to described them adequately... Of course, true to form, we never got around to photographing them while they were still here, but if you Click Here you can have a look at one of the pre-production, undecorated pilot / sample models that we received from our builder...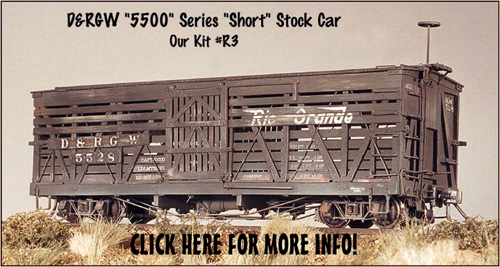 Back to Rolling Stock...

Copyright 2002 - 2017 - P-B-L ® ALL RIGHTS RESERVED