First introduced at the Fifth Annual National Narrow Gauge Convention in Columbus, Ohio back in 1985, this kit has undergone several revisions throughout the years.. But basically, the detailing remains the same as when it was introduced..

The basic tooling for this kit was created for us by Dave Grandt of Grandt Line Products , and as you can see from the photo, he did one heckova job.. The model accurately represents one of the mainstays of "The Narrow Gauge", and has proved to be our most popular seller..

The model weighs in just shy of 3.5 ounces, and comes complete with accurately scaled, easy-to-assemble, free rolling trucks moulded in an engineering plastic bearing the trade name "Celcon".. And of course, the now standard of the industry highly detailed, coined Nickel Plated Brass Wheelsets..

All parts of this model kit, save for the hand grabs and brake rods and piping are injection moulded in high impact styrene plastic.. Decals and Genuine Kadee &reg Couplers are included, of course, along with comprehensive instructions and "hints" to ensure your model will end up like the one shown here......

These kits are occasionally available with factory Pre-Painted / Pre-Lettered sides, ends and roofs.. Call or write for availability..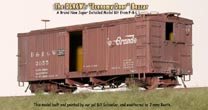 Back to Rolling Stock..

Copyright 2002 - 2021 - P-B-L ® ALL RIGHTS RESERVED