The "5500 Series Stocks" are the "Survivors"... Although originally built in 1904, and rebuilt in 1926, making them close to a hundred years old today, many of the real ones still exist down into our time. It is these cars, and other of their ilk that have the "look" of what the Narrow Gauge is all about: Truss Rods and Wood. . . A time when it was labor that was cheap, and materials were expensive; When you didn't toss something out just because it got old, or quit working. You fixed it. And a time when counties and cities had "dumps" for the stuff that was really beyond repair, and these weren't crammed full of throw-away plastics. . . Oh well. . . Progress. . .

This kit has been around since 1986... It's not the easiest of our kits to build, and we always kind of thought that we would revise it some day, which we did, sort-of, with the introduction of our All New Ready-to-Operate "5500" Class Stocks... Click Here for a look at them! But this kit still builds into a great looking model, and nobody's ever much complained, so why bother, we figures?

The particular Stock Car you see pictured was built for us by a long time friend and customer, Ed Luczak , who did a great job on it, don't you agree? He used one of our "PBL-810 Weathering Brush Outfits" to achieve that realistic "weathered board" appearance. You can get one of these outfits for yourself by clicking on our Online Catalog.

As with our other models, this model weighs in just under 3.5 ounces, and comes complete with accurately scaled, easy-to-assemble, ( Read Snap Together.. ) free rolling trucks moulded in an engineering plastic bearing the trade name "Celcon". And of course, our unique FineScale appearing Proto-Contoured Coined-with-Ribbed-Backs and "GRIFFIN DENVER" Faces, free rolling nickel plated brass wheelsets! Click Here to see 'em!

All parts of this model kit, save for the hand grabs, piping and wheelsets are injection moulded in high impact styrene plastic.. Decals and Genuine Kadee &reg Couplers are included, of course, along with comprehensive instructions and "hints" to ensure your model will end up like the one shown here...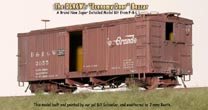 Back to Rolling Stock...

Copyright 2002 - 2022 - P-B-L ® ALL RIGHTS RESERVED