Here's another view of #331. The painting and lettering as done by Bill Schaefer too with pal and mine, Jimmy Booth, doing the weathering honors on this one. All decked out in "Sunburn Red", she's a beauty, isn't she?

The #331 is shown as she may have looked prior to the 1946 renumbering. And as she looks now, all rebuilt and on display at the Sacramento Railroad Museum here in California. ( Sans weathering, of course. )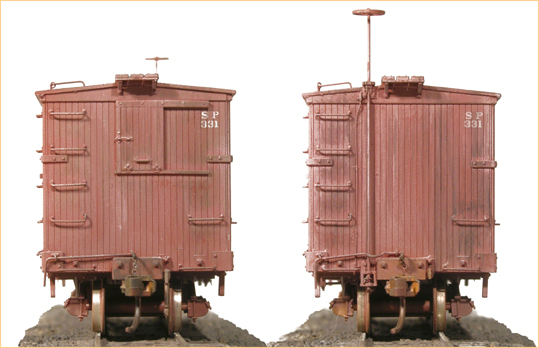 Here're a couple of end view shots. All of the photos on this page are taken directly from the instructions included in this run of kits. And yes, they're in color in the kits too !

This model weighs in right about 3.5 ounces. It comes complete with the accurately scaled, easy-to-assemble, ( Read Snap Together ) free rolling "Thielsen" Type trucks you see, moulded in that engineering plastic we use for this purpose, "Celcon". And of course, the now Standard of the Industry P-B-L Nickel Plated Brass Wheelsets.

All parts of this model kit, save for the hand grabs and piping are injection moulded in high impact styrene plastic. Proper Thin Filmed Decals and Genuine Kadee &reg Couplers are included, of course...