The D&RGW Narrow Gauge had over 1500 "Hi Side Gondolas" alone, numbered between 1000 - 1899, and 9000 - 9600.. Constructed by various builders between 1898 and 1903, they were the most numerous and commonly used of the narrow gauge cars..

All of these cars were rebuilt between 1923 and 1937 (Although, because of a Federal mandate, the "Rebuilt Dates" on their car sides might say otherwise.), from more or less the same original blueprints, most receiving an extra board atop their car sides, along with cast steel bolsters and coupler draft gear (called "economy" draft gear..) as salvaged from old standard gauge cars. After the rebuilding, four distinct types of cars emerged. The PBL kit depicts the "as-rebuilt" cars that received the cast "economy" style draft gear, they can be easily adapted to suit the appearance of any one of them..

Then too, as these cars aged, each began assuming a slightly different appearance due to mishandling and age.. An almost endless amount of variation can be found in the cars left in the Chama Yards today; and the instructions we supply with the kit outlines at least six of these...

These cars were versatile. They carried coal, raw ore, zinc and lead concentrate, mine timbers, limestone, and even steel rebar. Some cars were modified to carry logs, (their sides were removed), and many had their ends removed to carry drill casing to Farmington after the "Oil Boom" started in 1950..

An article in the August 1978 issue of Model Railroader Magazine had an EXCELLENT article by Allen Brewster about these cars. Also, the July/Aug; Sept/Oct; and Nov/Dec issues of The Narrow Gauge and Short Line Gazette had some articles on them as well..

The model you see in this photo is one of several built for the "Chama" Display Layout by Don Nelson..

As with our other models, this model also weighs in at right around 3.5 ounces. And this is with an "open" interior! The model comes complete with our accurately scaled, easy-to-assemble, ( Read Snap Together ) free rolling trucks which we mould in an engineering plastic bearing the trade name "Celcon". And of course, these are equipped with our unique Proto-Contoured Coined-with-Ribbed-Backs and "GRIFFIN DENVER" Faces, free rolling nickel plated brass wheelsets! Click Here to see 'em!

All parts of this model kit, save for the hand grabs and brake rods and piping are injection moulded in high impact styrene plastic. Decals and Genuine Kadee &reg Couplers are included, of course, along with comprehensive instructions and "hints" to ensure your model will end up like the one shown here...

If you are modeling a portion of the Rio Grande or R.G.S. Narrow Gauge, you are going to need quite a few of these interesting gons for your pike. They are atypical of the Narrow Gauge! "Home grown" in appearance; used everywhere the tracks led, by whichever line needed them at the time.. We are confident that these carefully designed models will be a welcome revenue producer for your roster!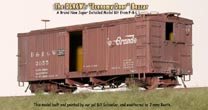 Back to Rolling Stock...

Copyright 2002 - 2022 - P-B-L ® ALL RIGHTS RESERVED