A Bit of History...

Any modeler worth his salt who's ever studied the likes of the "Geared Locomotive" can tell you there were basically three different types of them. Three types that ever gained any popularity anyhow. There were Shays, Heislers and Climaxes. (Willamettes, for all intents and purposes, were merely Shay knock-offs..) Of these three types, by far the most popular was the Shay.
It might be said that Shay's only real threat came from the Heisler, manufactured by the "Stearns Manufacturing Co." of Erie Pennsylvania. And although the Climax never put much of a dent in the sales of the Shay locomotives, it's design, and surprisingly, that of the Heisler were both patented by the same fellow, a Mr. George Gilbert.
The first true Heisler bearing that name appeared in August of 1894. The prototypes of the models seen on these pages, Westside Lumber Company's #2 and #3 rolled out of Stearn's Erie plant only a few years thereafter: 1899 and 1900 respectively. And, unbelievable as it may seem, both survive to this day! #2 in rather shoddy condition in the "Tuolumne City Park" in Tuolumne California; #3 in magnificently restored, fully operating condition in Felton California where she is operated on a regular basis on the 6% (and greater) grades of the RC&BT RR'd! Not too bad for a 100 year old, eh?
---

"So how did our Heislers run?" you ask?
Well sir, anybody who's seen our traveling display layout "Chama" in operation back in the day has probably witnessed our #3 in operation... I'm sure these guys will attest to the fact that these little rascals REALLY RAN! As in Smoothly, Powerfully and Prototypically. With scale top speeds in the low "teens" there was just no stopping 'em! An excerpt from the newsletter we sent out on them in 1994 read:

Some of our Heislers' Operating Features Included:


8 Wheel Electrical pickup!


All Wheel Drive just like the prototype!


Swiss Made MicroMo Motor w/Integral Gearing!


Real 2:1 "Bevel Cut" "Ring and Pinion" Geared Trucks!


Real Driveshaft and "U" joints just like the prototype!


"Quartered" Sound Cam hidden on the Driveshaft!


Stainless Steel Driver Tires!


"CNC" Cut, Pre-Blackened Trucks for Precise Fit!


Operating Genuine Kadee «áCouplers!


Number 2 and her sister, the Number 3 were produced back in 1994.. We imported 230 of 'em. 25 of the #3's were "Standard" or "Broad" gauged, as was the prototype in the fifties. These models are long sold out. But rest assured that if you DO find one on the "used" or "secondary" market, it will make you grin! They were simply GREAT models!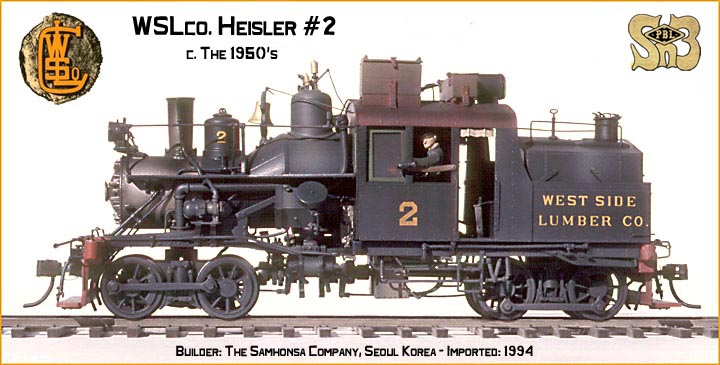 Click the Icon above for a good look at West Side Lumber Co. Heisler #2.
Or Click Here to return to the our main "Legacy" page.

Copyright 2001 - 2021 - P-B-L - All Rights Reserved